Today's blog is packed with value, here is what we will cover;
SEO has died….again
Changing tactics
Answer Engine Optimisation (AEO)
Voice Search
For the people (& Rankbrain)
Dead SEO or Dead Tactics?
It's that time of year. SEO has died again. This is one of the most popular and annoying cliches in the digital marketing industry.
The simple fact is SEO is not dead, neither has it ever been dying. What is actually the case is that SEO has just been evolving.
Google is constantly changing its algorithm and adding features to keep people using its powerful platform where 3.8 million searches occur on average, every minute.
With these changes comes adaptations and a need for new strategies and tactics. Old SEO tactics are dead, but SEO is very well alive and breathing.
Here are 3 SEO tactics that are dead & buried:
1. Just focusing on links
Yes links have a positive influence on rankings but you can't just focus on links, you need to make sure your whole house (website) is in order and that your SEO strategy is holistic and you are looking at it from all angles.
Delete outdated pages, improve your page speed, generate amazing content and skyrocket your user experience (more on this later).
2. Churning out content
Gone are the days where you could churn out tonnes of relevant content and boost your rankings. There are millions and millions of blogs online so you need to standout for your content to appeal to users and to Google. Your content may be unique but if it serves no purpose you won't reap the rewards.
Try Brian Dean's (Backlinko's) Skyscraper technique where you take popular content and make it 10X better by adding infographics, images and more text so you have the most powerful piece of content out there.
3. Keyword rich domain + meta descriptions
Having a keyword rich domain name used to be a great way to get ahead of competitors and rank quickly for your search terms but Google has adapted and it now takes much more than this to rank well and beat your competition. The same goes for having keyword heavy meta descriptions.
Instead focus on being more natural and trying to influence CTR's with your meta descriptions, include CTA's and be unique !
Answer Engine Optimisation
As I mentioned earlier Google is constantly adding new features to best serve its users.
We as humans love convenience that's why companies like Deliveroo, Uber and Amazon do so well. They're convenient, why go out when you can get things delivered to your door in record time.
Why am I talking about this? – because Google is also serving up things fast with the likes of featured snippets and knowledge graphs.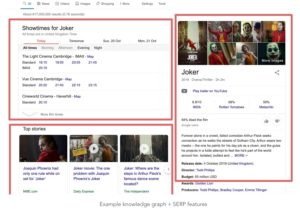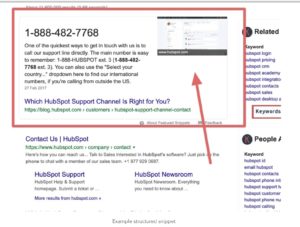 As seen above Google has been evolving into more of an answer engine and less like a search engine, it's serving information to people without them necessarily having to click and search on websites. Google is constantly rolling out new features like this and we can expect to see more & more releases over the next few years.
What does this mean for SEO?
I'm only going to touch on this today but you need to treat the SERPS like your home or FAQ page.
You need to be answering consumer questions and providing the correct information by optimising your websites schema markup.
Check out Moz's guide on Schema Markup for more information.
Voice Search
Voice search kicked off in 2011 with the realise of Siri, fast forward to 2019 and we now have Amazons Alexa, Cortana and Google assistant.
As I mentioned earlier it's all about convenience, people can now change songs, bring up recipes and ask for directions all with the power of voice search.
It is predicted that next year (2020) over 40% of online searches will be voice based.
With this in mind it's important as a business you are optimising for voice search.
Here are 6 tips to to help you optimise for voice search:
Reduce page loading time
Use natural language over keywords
Get listed as a local business online
Write local content
Use structured data markup
Write blog posts based on customer questions
For the people (and Rankbrain)
Rankbrain is a machine learning AI that Google uses as a core part of its algorithm. It processes search results and helps Google understand search queries by assessing how people interact with each query.
Rankbrain is actively changing Google's algorithm instead of relying on people to manually hand code it.
I'm not going to dive into too much detail on Rankbrain and how it works but in short, Rankbrain is analysing things like user metrics to help it process search results and feed information into Googles algorithm.
Make sure you are optimising on the following user metrics to help keep up with Rankbrain which Google has stated is now one of the most important (top 3) ranking factors.
Organic clickthrough rates
Bounce rate
Dwell time
Optimising organic clickthrough rates
To increase organic clickthrough rates you need to do the following two things.
1. Optimise your title tags.
Keep your meta title tags under 60 characters
Put important keywords first
Give unique titles to each page
don't overdo your SEO keywords
Write for your users
2. Optimise your meta descriptions
Include a call-to-action
Keep to 155-160 characters
Avoid duplicate meta descriptions
Contain your focus keywords
match page content
Bounce Rate
Bounce rate is the percentage of visitors that leave your website without visiting a second page.
You can improve your websites bounce rate by:
Increasing page load speed
Adding videos and imagery
Improve your website navigation
Dwell Time
Dwell time is the amount of time users spend on your website after they've clicked a link on a SERP page, before clicking back to the SERP results.
Often people focus so much on getting traffic to their website that they neglect optimising around how to actually keep users on their website to convert them.
Here are some quick tips to improve your websites dwell time:
Use design to captivate your audience
Optimise for mobile
Reduce Ads + popups
Summary
SEO is not dead, it's just always evolving and you need to keep up with latest tactics and methods to make sure you are complying with Googles algorithmic changes & staying ahead of your competitors.
If you think you may of been penalised by a Google penalty or you are unsure why your competitors are still ranking ahead of you drop us a message and book your FREE 30 minute strategy session.