Reason 1 – You are not tracking things correctly
It's essential to determine whether your SEO campaigns are effective or not. To do so, you should monitor your rankings, keywords, and traffic levels. Additionally, it's important to analyse the conversions taking place on your website.
However, SEO is only one part of the process so it's equally important to ask your customers 'where they first encountered your business online' or 'how they first heard about you'.
It's worth noting that people may not always convert immediately, so it's essential to be patient and recognise that the conversion process can take time.
Reason 2 – You are paying someone $200 a month to do your SEO
Businesses often make the mistake of hiring an SEO agency or freelancer for a monthly investment of $80 to $400 and then are surprised when they don't see significant results. Unfortunately, such a small budget makes it challenging to make significant progress with SEO, resulting in slow growth and a lack of tangible results.
To improve your SEO, you need to invest in content creation and link building, both of which can be expensive so a budget this small may be your entire investment, leaving little room for SEO tools (also expensive) and all the time that goes into the campaigns. Consequently, many businesses find that their SEO campaigns just "tick over" without ever making meaningful progress.
Therefore, unless your SEO campaigns are already at their peak and you're simply looking to maintain your rankings, a small budget is unlikely to move the needle forward. This is particularly true if you're a larger business, and not just a small, local operation.
Reason 3 – Your are not focusing enough on link-building
As previously stated, link-building is a crucial component of your SEO strategy, particularly with the increasing amount of content being generated and the advent of artificial intelligence. In 2023 and beyond, link-building will become even more critical.
To maintain momentum with your SEO efforts, it's recommended that you create backlinks to your site every week. Unfortunately, this is often neglected or poorly understood.
If you require assistance with your link-building campaigns, don't hesitate to reach out to us.

How technical SEO doubled this clients website traffic
Reason 4 – Your website or offer is weak
It's important to note that even the world's most exceptional marketing campaign cannot remedy a flawed website or product. While SEO is a fantastic channel to use for generating regular traffic to your site, it's worth noting that these visitors are already actively seeking out what you offer, making them high-intent potential customers.
However, if your website isn't appropriately optimised for conversions, or if you're not marketing your service or product correctly, you may run into significant bottlenecks. Even if your SEO results in thousands of monthly visitors to your website, you'll need to address these bottlenecks urgently to ensure that your website can handle the influx of traffic and turn visitors into customers effectively.
Reason 5 – You don't know what you need to do to move forward
Maybe your SEO efforts are already great but you don't know the next steps to take to scale it up.
Search Engine Optimisation is a very complex channel and you need to look at:
Technical website issues ⚙️
Keyword research and opportunity 🔍
On-page changes ✏️
Link building ⛓
Content creation 📝
as well as other factors to maximise the revenue and success you get from SEO.
If you are stuck with what to do next the best thing we can offer you is to book a free call with us where we can take a look over your SEO efforts and explore what you need to be doing moving forward.
Reason 6 – You've been hit with a Google or Search Engine Penalty
Despite all the hype and fear around this its not something that happens that often.
There are certain ranking factors and updates that can have a big impact though or if you have a poor / spammy link profile the algorithm can knock you down positions on Google.
Years ago it was easier to implement and use 'Black Hat SEO' techniques to manipulate rankings but the Google Algorithm has become more and more advanced with each passing year so these things don't really work anymore.
If you think you may have been affected by a penalty or update then contact us.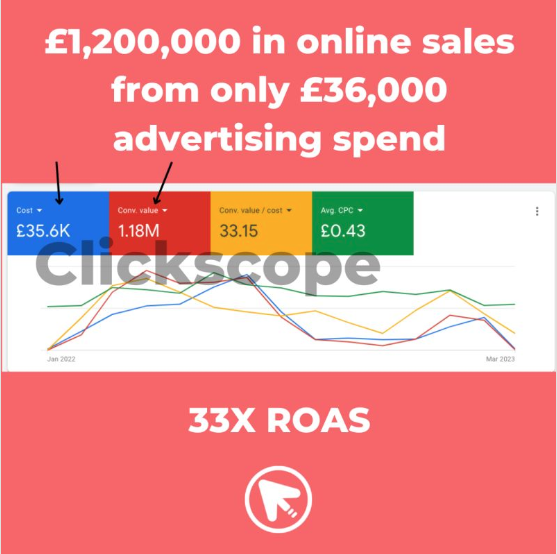 33 X Return on Ad Spend
For this client we generated them £1,200,000 in online sales from only £36,000 advertising spend. That means for every £1 we spent we generated them £33.
We also turned their SEO efforts into a 6 figure a month marketing channel for them. One month sales reached £160,000 from SEO alone.
""We have been working with Clickscope for about a year. Sam and his team have delivered great results with clear data to show improvements in our SEO and Google rankings.." - Karen