In today's post I'm going to show you how to set up site-search tracking on your website through Google Analytics so you can see what your web visitors are looking for.
I implemented this tracking feature for large mechanic client a few years ago.
We found out that lot's of people were searching for 'Tyres' using their search function on the website but they didn't actually have a designated landing page about Tyres.
So we built one for them, optimised it and their conversion rates skyrocketed 🚀🚀🚀
Before we get started
You need to have Google Analytics set up on your website & you also need an actual search function on the website (usually a magnifying glass or search icon which users can find related content on your website depending on what they search).
Steps
1. Log into Google Analytics > Click Admin > View Settings.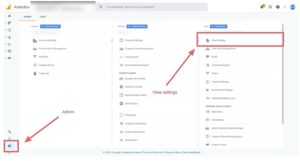 2. Scroll down and make sure 'Site Search Tracking' is turned on. You will need to apply this to all the necessary views in which you would like to be able to see the data.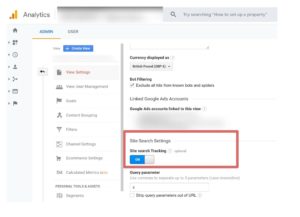 Directly below this is the 'Query parameter' box.
In this field, enter the word or words that designate internal query parameters, such as term, search or query etc. Sometimes query parameters are designated by just a letter, such as s or q.
To find this information perform a search on your website & then examine the URL.
Like this:
https://www.example.com/search.htm?s=Study
The letter directly after the ? and before the = is what you need, in this case it was the letter S but this will differ from site to site.
Enter this into the field and click save.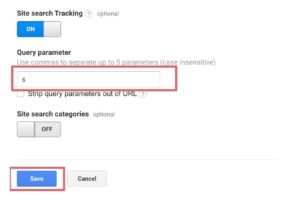 If you decide to check 'Strip query parameters out of URL' it will remove certain keywords so when you look at the URL's in GA it won't display keyword=tshirt or keyword=fee's for example.
That's all you need to do to set up the basic tracking, check out this article or drop us a message if you need help setting up more advanced site search tracking & implement categories.
Finding the Data
Now that you've followed the above steps GA will start recoding site search data for you to make informed decisions with.
Log in to GA > Click Behaviour > Click Site-Search
When you website has collected enough data you then have some awesome insights that you can use to increase website conversions & user experience.
Using the 'Search Terms' section you you pin point the top search queries.
For instance this client is getting lots of searches for 'fee's & accommodation' so perhaps this information is not clearly displayed on the website or perhaps they don't have a designated page that would be really beneficial.
If you head over too 'Search Pages' you can see on what page searches are being conducted, again this is super powerful information as you can go through and optimise each page better.
We checked out the Contact Us page and there were lot's of searches for vacancies & jobs, so again maybe this is not clear enough on the website.
Most searches were also occurring on the homepage, maybe the navigation could be improved or new pages need creating to help direct users to where they want to go more easily.
Summary
If you have a search function on your website you NEED to be tracking what users are looking for, this can drastically improve your website conversion rates & user experience if you examine the data & create appropriate actions.
If you need a hand with your digital marketing campaigns or setting up & analysing your site search data then drop us a message!