Lets start with some summary notes;
1. This growth was mainly achieved by increasing their SEO revenue by 363% and PPC revenue by 55%
2. This brand is in the construction / building space and it is not seasonal (meaning their revenue doesn't fluctuate depending on the month)
3. The growth strategy we used can be applied to any brand that is already generating revenue with SEO & PPC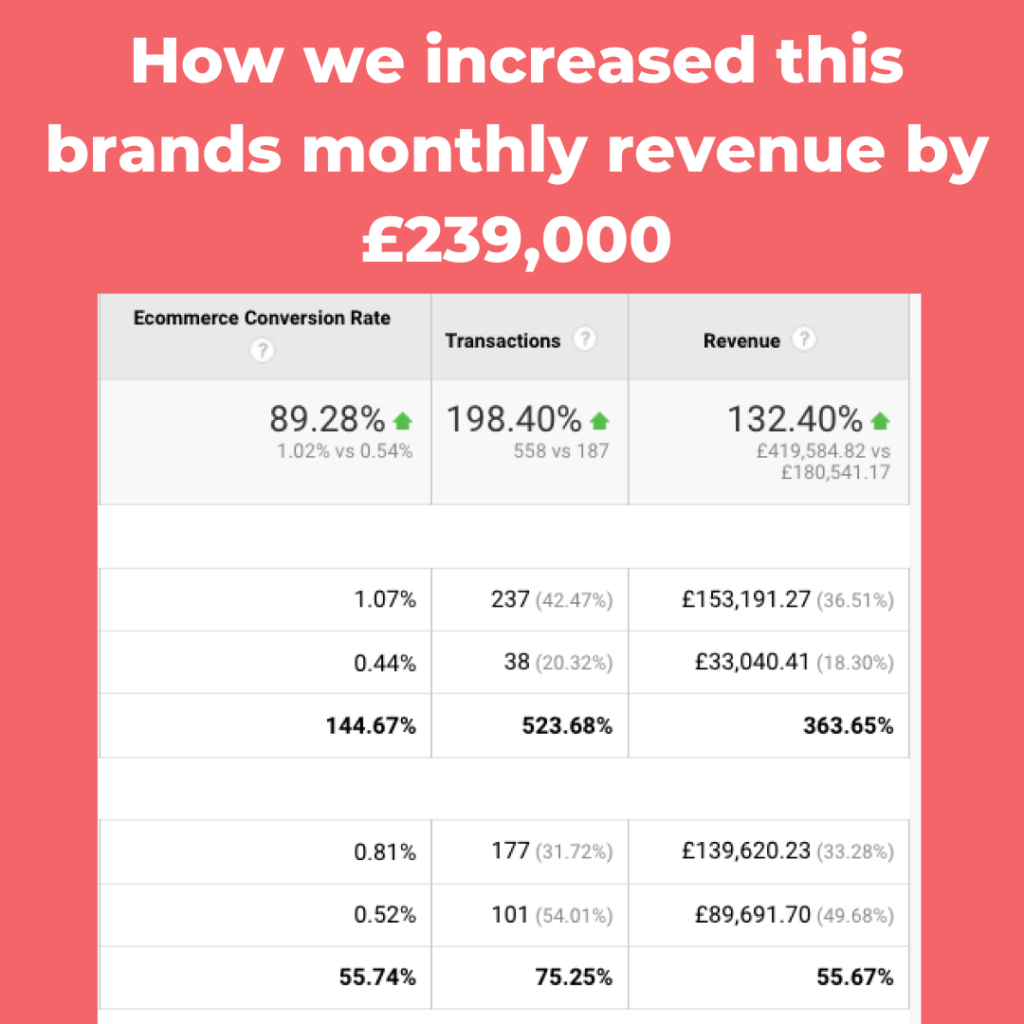 So how did we increase their SEO revenue by 363% ?
The problems;
Lack of link-building campaigns

Poor on-page SEO (lack of content and keywords on the key target pages)

Wasted crawl budget on thousands of pages they did not need (dead pages with very little content or usage)

Technical errors effecting SEO performance (like 404 pages that had links pointing to them)

No content strategy or blog production


What did we do?;

Started building SEO backlinks

Fixed all the core technical issues effecting performance (for instance by properly addressing the 404 pages this also helped reclaim backlinks they had pointing to these broken pages that had been deleted without thought)

Refreshed and added content to their core target pages to help improve on-page SEO

Rolled out a blog and content strategy to help drive additional traffic to the website as well as helping with the other keywords we were focusing on

Created new pages to help them rank for more keywords

Rinse and repeated our monthly SEO techniques (backlinks, technical, blogs, on-page and analysing data so we can keep improving)
How did we increase PPC revenue by 55%?
The previous agency had done a pretty good job on the account and it was ticking over nicely. This was the main problem though…..
Because it was just 'ticking over' silly mistakes were being left and they were not testing:
new campaigns
landing pages
bidding strategies
ads
etc
The negative keyword list needed badly updating as some spend was being wasted.
The product feed was not optimised and certain products were not even showing in search or were 'limited' which was effecting performance.
There were also broken site-link, phone number and other ad extensions effecting ad and account performance.
It was a combination of addressing the silly mistakes and testing new things out that helped us increase the results as is usually the case for most of our clients.
If you want to start seeing REAL results from your digital marketing campaigns then get in-touch!